TUSCAN ALL STARS Weekend Wine Tasting Brunch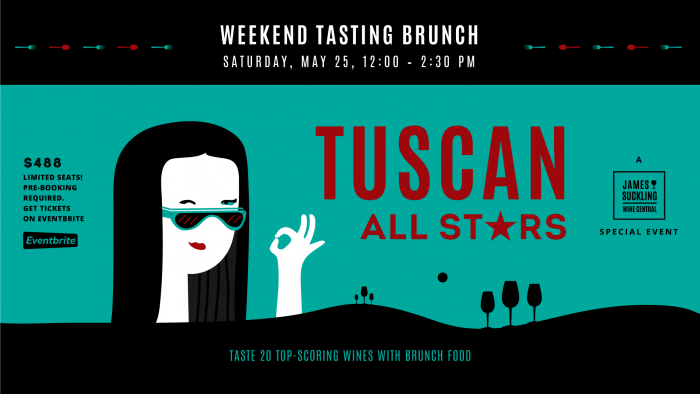 A James Suckling Wine Central Special Event:
Weekend Tasting Brunch:
TUSCAN ALL STARS*
Saturday, May 25, 12:00 noon – 2:30 pm
…….
Tuscany is one of the most coveted wine regions in the world. Learn more about Tuscan wine, and why it's the pride of Italy!
Taste a selection of 20 top-rated wines by James Suckling in a fun and casual walk-around format, with our team of sommeliers! Premium wines and premium producers only.
Enjoy our delicious brunch menu!
Limited Seats!
…….
$488 Wine Tasting + Brunch Main Dish*
*Choose one: Eggs Benedict / Eggs Florentine / Shakshuka / Caesar Salad / Beef Sliders & Signature Fries / Fried Chicken & Signature Fries
Limited Seats! Pre-booking required and tickets available online at the bottom of this page.
For enquiries, email reservation@jswinecentral.com or call +852 2539 7999
…….
Pre-booking mandatory to confirm seat: