South Australia vs South Africa Weekend Tasting Brunch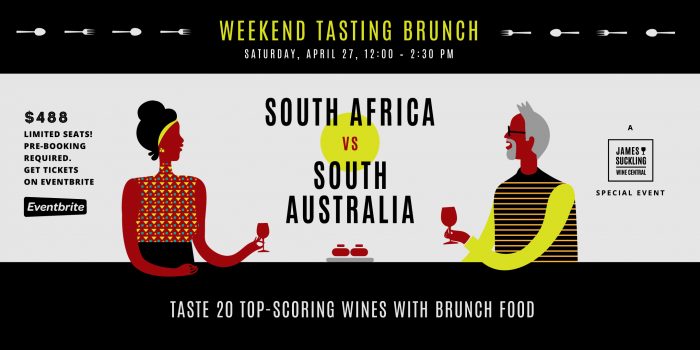 A James Suckling Wine Central Special Event:
WEEKEND TASTING BRUNCH:
South Africa vs South Australia
Saturday, April 27, 12:00 noon – 2:30 pm
…….
This month's Weekend Tasting Brunch theme will see two giants from the southern hemisphere go head-to-head: Australia vs. Africa!
Taste 20 top-scoring wines selected by James Suckling from these two must-know regions in a fun and casual walk-around format, with our team of sommeliers! Premium wines and premium producers only.
Enjoy our delicious brunch menu!
…….
$488 Wine Tasting + Brunch Main Dish*
*Choose one: Eggs Benedict / Eggs Florentine / Shakshuka / Caesar Salad / Beef Sliders & Signature Fries / Fried Chicken & Signature Fries
Limited Seats! Pre-booking required and tickets available online at the bottom of this page.
For enquiries, email reservation@jswinecentral.com or call +852 2539 7999
…….
Wine List below!
Taste the unique terroir from South Africa and South Australia!
…….
Pre-booking mandatory to confirm seat:
WINE LIST
SOUTH AFRICA
Allée Bleue Pinotage Franschhoek 2016
B Vintners Pinot Noir Walker Bay  Terroir Specific Black Bream 2016
Bellingham Syrah Paarl 2015
Backsberg Cabernet Sauvignon Merlot Klein Babylons Toren 2014
Bouchard Finlayson Hemel-en-Aarde Hannibal 2016
Backsberg Shiraz Paarl Pumphouse 2016
Baleia Chardonnay Cape South Coast Inge 2014
Beaumont Chenin Blanc Bot River Hope Marguerite 2017
Beyerskloof Stellenbosch Faith 2014
Kanonkop Pinotage Simonsberg-Stellenbosch Single Vineyard 2016
SOUTH AUSTRALIA
De Bortoli Chardonnay Yarra Valley Riorret 2017
Kaesler Cabernet Sauvignon Shiraz Barossa WOMS 2016
Langmeil Cabernet Sauvignon Barossa Valley Kernel  2016
Mac Forbes Pinot Noir Yarra Valley Yarra Junction 2017
Mac Forbes Yarra Valley Hugh 2016
Nockie's Palette Shiraz Barossa 2015
St Hugo Cabernet Sauvignon Coonawarra Cellar Collection 2012
Torbreck Shiraz Viognier Barossa RunRig 2015
Two Hands Shiraz Barossa Valley Bella's Garden 2016
Yalumba Shiraz Barossa The Octavius  2014