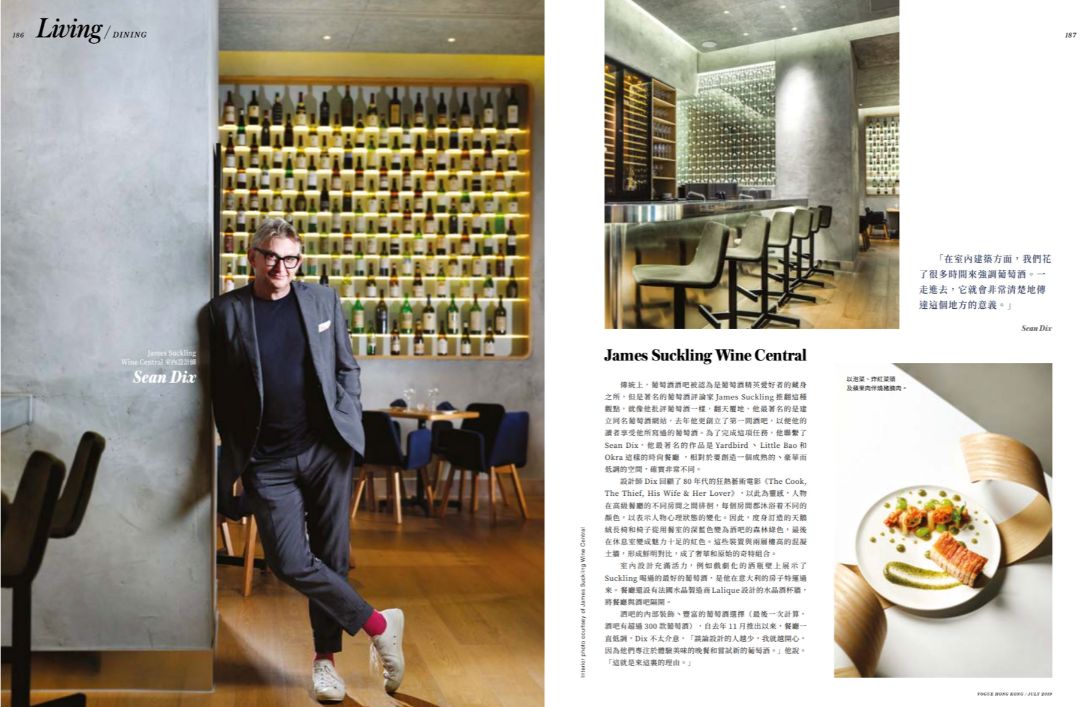 Editor's note: This article first appeared in Vogue Hong Kong, translated and reprinted here with kind permission.
Traditionally wine bars are considered to be hangouts for wine lovers, but James Suckling decided to go against tradition, just as he did with his powerful wine reviews on his website JamesSuckling.com. He built his first wine bar James Suckling Wine Central last year in Central Hong Kong for his followers to taste the wines he had written about.
To accomplish his vision, Suckling got in touch with Sean Dix, the designer behind fashionable restaurants such as Yardbird, Little Bao and Okra, to create an exceptional space – sophisticated, luxurious and understated.
Dix owed his inspiration to "The Cook, The Thief, His Wife & Her Lover", an epic art film from the 1980s in which the characters moved between different rooms in an upscale restaurant, each with a different color theme to represent the characters' states of mind throughout the film.
In James Suckling Wine Central, the tailor-made navy blue velvet benches and chairs in the dining room switch to forest green in the bar and finally a vibrant scarlet in the lounge. The decor forms a bright contrast with the two-storey concrete wall, creating a unique combination of luxury and nature.
The interior design is full of energy. For instance, the breathtaking wine bottle wall showcases some of the best wines Suckling has tasted, specially delivered from his home in Italy.
Serving as a partition wall between the restaurant and the bar is a wall filled with crystal wine glasses designed by French glassmaker Lalique.
With the exquisite interior design and the impressive wine menu of over 300 wines by the glass, the restaurant remains low profile since its opening last November. Dix however does not seem bothered. "The less they talk about the design the more satisfied I am, for they are reveling in the dining and wine tasting experience, which is exactly what they are here for."