10 new tasting flights, 90+ new wines on offer at JSWC this fall

As the cooler weather arrives in Hong Kong and the temptation grows to end your work days or supplement your weekend activities with a little glass of vino in the city, consider this: 
Hong Kong's best wine bar (that's us!), with already 400+ wines by the glass, has just added more than 100 brand new ways to try new and exciting wines. 
Our team of top sommeliers and wine gurus has created 10 new tasting flights, including 'Refreshing Whites' that will keep you cool on even the hottest days, 'Hills of Montalcino' for those keen to sample some of Italy's best (who isn't?), and '100 Points!', which gives you the chance to try three perfect wines one after the other. See the full Tasting Flight menu here. 
Plus, if you still need more, we've just released our 'Great Wines of the World 2019' wine menu, which takes our events of the same name as an inspiration. The greatest wines from the world's best wine regions are now available by the glass at very reasonable prices. See the full menu here. 
You can even meet the winemakers and winery owners of these amazing bottles in person, if you sign up to our Great Wines of the World Hong Kong event, taking place on October 31, 2019. Talk to them, discover how they make such amazing wines, grab a selfie for your Instagram channel – then head to James Suckling Wine Central to show off your new-found expertise and wine-celebrity pictures with your friends.
---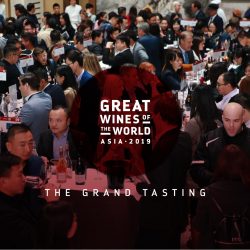 To taste some of these great wines at what is considered THE wine event of the year in Asia, get your tickets below. There are still a few left so move fast. Great Wines of the World Asia 2019 gives attendees the exclusive opportunity to taste and experience outstanding wines from the world's most renowned vineyards and wineries. All wines being poured have scored a minimum of 90 points by James Suckling, with the majority scoring 95 points and above, including eleven perfect 100-point wines.
Tastings will be held in Seoul (Oct 29 – SOLD OUT), Hong Kong (Oct 31) and Beijing (Nov 1).
Click here for tickets and further information.